Shop Our Collections Here!
Shop Magnolia Pearl from the Link Below
Magnolia Pearl is a seventeen-year-old creative art business and brainchild of Robin Brown. She calls it her, "labor of love." With great attention to detail, the pieces are limited run and constant production, as opposed to seasonal or biannual. We carry and receive new additions on a monthly basis. The fabrics and materials used are naturally occurring and developed globally, as well as vintage and antique.
The clothes are individually crafted to meet any need or desire, whether it's comfort, iconic styling, lifestyle, timeless, sexy, adaptive, free flowing and cohesive. The pieces are always current and work well with previous purchased pieces. Magnolia Pearl has an impressive, universal following of passionate art collectors that cherish their pieces. Each piece is a rarity, exuding the essence of uniqueness and originality. The quality is exceptional, as each piece is individually handcrafted.
Shop Now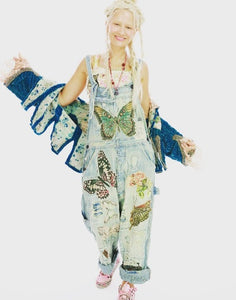 Once upon a time.....
Once upon a time, long, long ago, (circa 1960's,) and far, far away, (Franklin Township, Ohio) a Mother & her daughter loved dresses.
My Mother is my fashion icon. She always managed to look like a million bucks while on a tight budget. Perfectly matched from her hat & gloves to the tip of her shoes.
She created in me the same love of clothing & the art of dressing up from a young age. With her sewing skills, she created many matching outfits for the two of us.
Playing dress up has never gotten old for me! I so enjoy working with customers to put together an outfit to make them look and feel fantastic!
Northside Cellar was born of that love of clothing that my Mother instilled in me.
Now I get to live and love fashion everyday and share it with others. 
Learn More
HOW TO CONSIGN WITH US
Consignment Period & Payment:
The consignment period is 90 days. Any unsold items remaining at end of consignment period will become the property of Northside Cellar. Unsold items will be donated to a local shelter after a period of markdowns.
40% of the selling price will be paid to the consignor, less any credit card processing fees. Earnings may used at our store or pick up a check at the end of the contract.
We accept:
New and gently loved clothing in current style. We look for designer labels, popular store brands, deparment store and boutique labels.
All clothing must be clean, odor & wrinkle free, preferably on hangers.
Stop by at any time Tuesday-Saturday 11-5pm
No Appointment Required!
Our Store
106 N Main St
Akron, OH 44308
(directly across from Luigis restaurant)
OPEN
TUESDAY thru SATURDAY
11 - 5
www.northsidecellar.com